RFM: two excellent WSK Final Cup podiums at Adria
04-November-2014
04-November-2014 0:00
in News
by Admin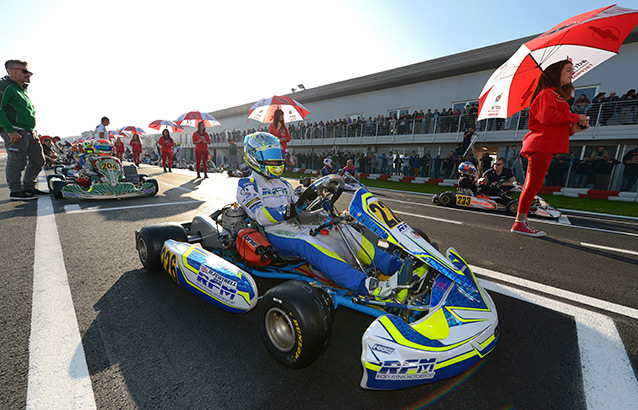 Ricky Flynn Motorsport is not resting on its laurels. After their double world crown in KF and KF-Junior, the British team is already preparing for the 2015 season and new drivers have joined the team for one of the last races of the year, the WSK Final Cup. RFM, like everyone else, were learning the new track at Adria Karting Raceway, and the results were there immediately. Fewtrell made the most of his debut in a new category with 2nd place in KF, while Sargeant got the same result in KF-Junior.
Max Fewtrell made a big impression, on the pace in his first race in KF on a new track. Already in the top three after the heats, he won the pre-final and took an outstanding second place in the final having fought with great maturity against much more experienced drivers. Jehan Daruvala was also at the front, but with less success. 9th on the finish line in the final, a penalty downgraded him to 20th place.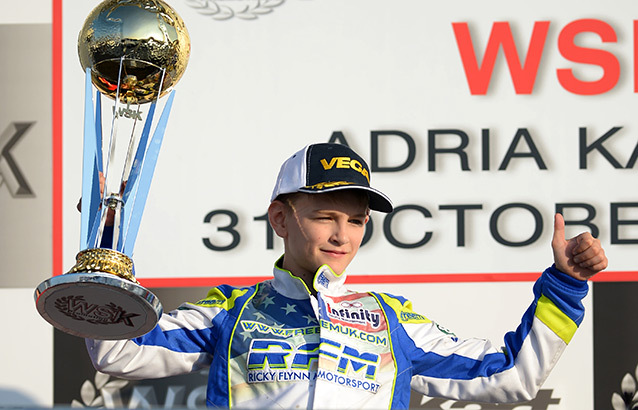 In KF-Junior, Logan Sargeant did not start very well and was 21st in qualifying. But the American recovered well thereafter to make up lost time and finished ninth after the heats, sixth after the pre-final and second in the final. The Danish driver Casper Roes Andersen showed great promise in his first race at RFM, particularly his climb to fourth position in pre-final A in KF-Junior, with the second fastest lap of the race. He was 5th in the final when he had to retire. Pole man of his session in qualifying, Sun Yue Yang made a big gain of 16 places in the final and managed to get into the top 10. The young Malaysian Adam Haikal Mazrul Haizad didn't do badly in his third KF-Junior race.
Info Kartcom / © Photos KSP