Two world titles at once for RFM
23-September-2014
23-September-2014 0:00
in News
by Admin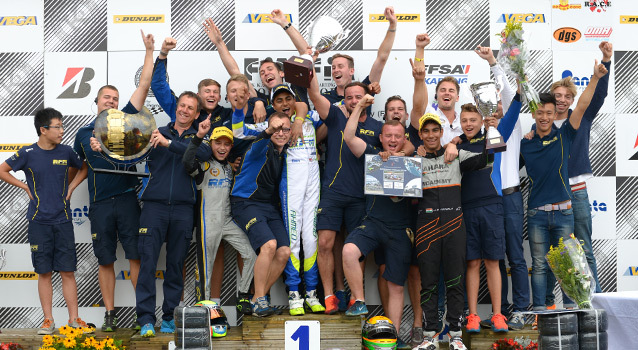 In a historic feat, the Ricky Flynn Motorsport team has won two World Championship on the same weekend at Essay. Enaam Ahmed was crowned in KF-Junior and Lando Norris in KF, while Jehan Daruvala was also on the podium in the premier class. It has been an exceptional success which demonstrates perfectly the incredible competitiveness of the entire British team, throughout a 2014 season which has been memorable in every way.
Throughout the year, regardless of track conditions, RFM has always enabled its drivers to fight for victory at the wheel of their FA Kart chassis powered by Vortex engines from the Danish tuner ONE. This exemplary consistency at the highest level was rewarded in France with two simultaneous world titles. Hard to beat!
Recently crowned in the European Championship for KF-Junior, Enaam Ahmed dominated the World Championship from the beginning to the end in the meeting at Essay, a unique circuit, both in the hot sun during the qualification heats and a wet track during the Finals. After pole in qualifying, Enaam won his five heats with three fastest laps and two second-fastest laps. The young British driver then won after a fierce battle on a wet track in Prefinal 1 before concluding with a victory in the Final, more than six seconds ahead of his opponents. Although competitive, the other three drivers from RFM didn't succeed because of massive clashes early on. Recovering from a long way back in Qualifying, Sun Yue Yang was near the top 10 in his Prefinal, but retired from the battle in the Final. Well placed in Qualifying and heats, Max Fewtrell and Logan Sargeant were both victims of contact on the first lap of the Prefinal.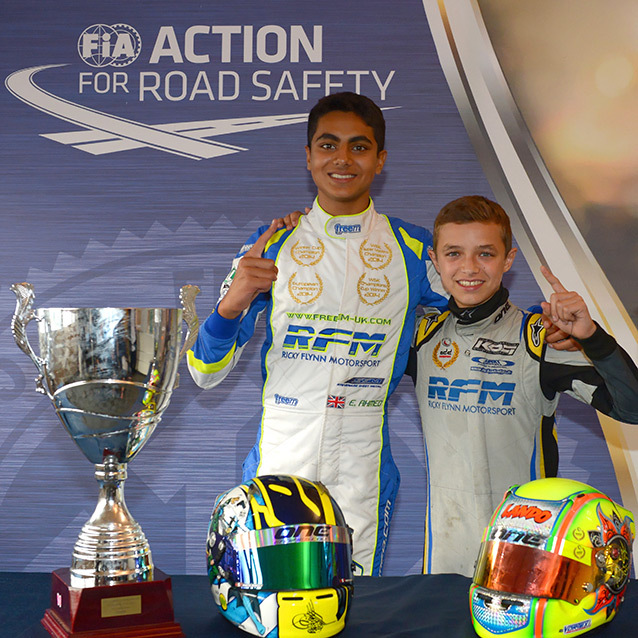 Lando Norris had his best result in his last kart race after being steady in 2nd place in Qualifying, the heats and the Prefinal. Careful at the start of the Final, he took the lead on the 10th of 25 laps and won brilliantly by almost three seconds at the finish line. Jehan Daruvala made a good effort in the Prefinal to move from 15th to 5th position. He then led the Final up to the 9th lap to finish 3rd in the world. Unlucky in the battle in the heats, Guan Yu Zhou and Oliver Norris failed to qualify for the Finals in which they would have had their role to play.
Info Kartcom / © Photos KSP