Thunderous debut in the European Championship for RFM
14-May-2014
14-May-2014 0:00
in News
by Admin
With a double in the KF-Junior final for Ahmed and Sargeant, pole position and total domination in the heats and second in the standings in KF with Lando Norris, Ricky Flynn Motorsport have not disappointed at the first of the four rounds of the 2014 CIK-FIA European Championship at the La Conca track.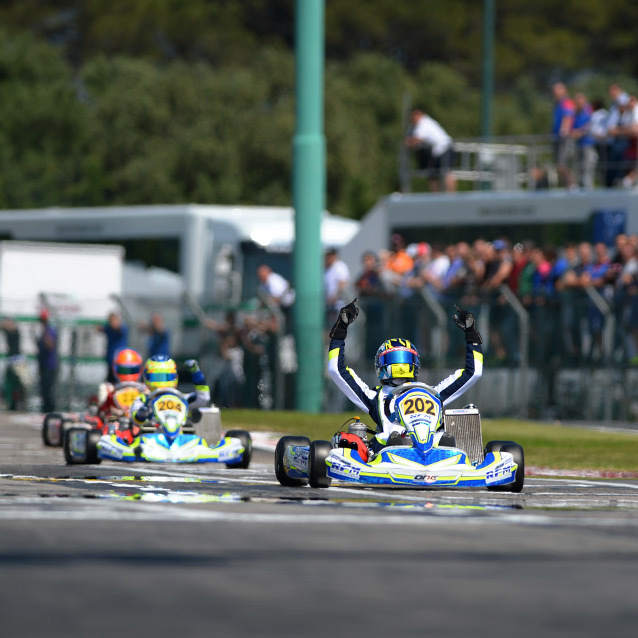 Although third in the final in KF, and holder of the fastest lap in the race, Lando Norris was not satisfied with his performance during the finals. After he significantly dominated qualifying and the heats, he was naturally looking for victory, but events on the first laps of both races decided otherwise. Fortunately, his second place in the championship standings, just eight points behind the leader, has preserved his chances in the rest of the championship. A long way back in qualifying, Ollie Norris gradually rose to 14th place in the final, despite a bad start in the prefinal. Jehan Daruvala was able to get a good result with very good performance at the start of the meeting. He even held 3rd place in the prefinal before dropping back, then was caught up in a clash in the final and was forced to climb back from 24th to 16th place. Regularly in the top 10 in the heats, Guan Yu Zhou lost a lot of time in an incident at the start of the prefinal and was forced to retire in the final.
A perfectly managed upward trajectory for Enaam Ahmed led him to the final victory in KF-Junior. Third in the prefinal, he was able to take advantage authoritatively on the first lap of the final and spent 19 of the 21 laps in the lead. This excellent management of the meeting puts him in the lead in the championship standings. Also convincing, Logan Sargeant was 3rd fastest in qualifying and in the prefinal he undid a delay in the heats to move up from 23rd to 7th place before continuing his momentum to second position in the final. He is currently third in the championship. Max Fewtrell was in the top 10 after the heats and prefinal before taking 6th place in the final. There were up and down results for Sun Yeu Yang, winning the repechage, making a superb recovery of 16 places in the prefinal and was in the top 10 of the final until lap 6. An incident then dropped him to the back.
Info Kartcom / © Photos KSP