KFJ podium and event lap record in KF for RFM at Sarno
26-March-2014
26-March-2014 0:00
in News
by Admin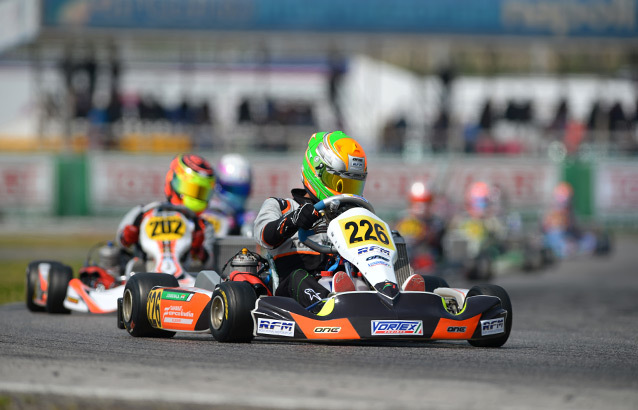 The FA Kart / Vortexes at Ricky Flynn Motorsport once again demonstrated a high level of competitiveness at the first round of the WSK Super Master Series at Sarno in changing weather conditions. The KF drivers were fast, including Jehan Daruvala achieving the fastest time of the meeting, but race incidents stopped them reaching their potential in the final. The KF-Junior drivers experienced more success with 3rd and 5th for Enaam Ahmed and Max Fewtrell, in the wet final.
Jehan Daruvala opened the scoring in KF qualifying by gaining pole position and confirmed his ability in this category with a win and a second place in the heats. He was then 5th in his prefinal, but was caught up on the first lap of the final and finished 18th despite a gain of nine places. Ollie and Lando Norris were further back in the heats, which didn't stop them setting several fastest laps. 5th in the intermediate classification, Ollie qualified after trouble on the first lap of the prefinal and continued to improve in the final. Lando was pushed more often than not in the pack, and retired after a crash. Although he was 29th in qualifying, Guan Yu Zhou made consistent progress that led to 16th position in the final.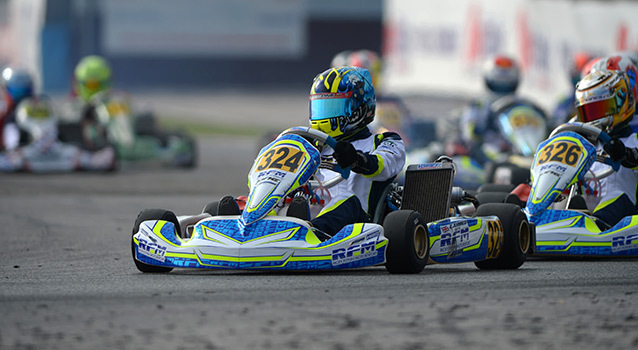 Four KF-Junior drivers from the British team raced at Sarno, all in the top 10 in the intermediate classification as well as the prefinals. With five race wins and three fastest laps, the RFM FA Kart / Vortexes were always among the sharpest karts in the field, both in the dry and in the rain as evidenced by the fastest lap in Prefinal A for Max Fewtrell. The struggle was intense in the final and Enaam Ahmed managed to return to third position, Max Fewtrell secured fifth position, while Logan Sargeant and Sun Yue Yang lost places on the first lap. The American came back to 14th on the line before receiving a 5'' penalty, and the Chinese driver regained seven places to finish 21st.
Info Kartcom / © Photos KSP