RFM: Ahmed takes the lead of the Champions Cup at La Conca
06-March-2014
06-March-2014 0:00
in News
by Admin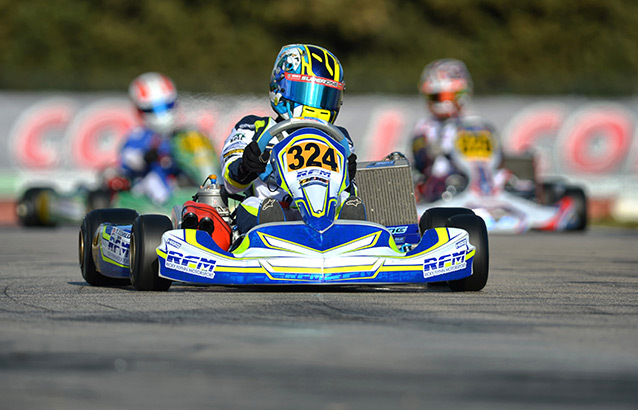 The KF-Junior drivers at RFM Motorsport made their mark at the first of two consecutive meetings of the WSK Champions Cup at La Conca. Enaam Ahmed dominated the meeting by winning the prefinal and final, while Max Fewtrell finished fourth with the fastest lap. Ollie Norris put in an excellent performance in KF, 3rd after the heats, but retired in the final, while his younger brother Lando Norris re-entered the top 10.
The new recruits in KF continue, along with the team, to work on chassis setup with the Dunlop tyres, used at La Conca for the first time this season. The most experienced driver, Ollie Norris, quickly found his feet on the track at Muro Leccese. Regularly in the top five throughout the meeting, he had unfortunately had to retire mid-way through the final. Lando Norris and Guan Yu Zhou meanwhile progressed throughout the race to finish 9th and 13th in the final.
In KF-Junior, Max Fewtrell started strongly with pole position in timed qualifying and 1st place in the intermediate classification. The rain that hit the La Conca track from the prefinal A caused him to drop to 7th position and then he came back to 3rd on the finish line. He then moved from 8th to 4th place in a hotly contested final, the holder of both the fastest lap and the event record. Enaam Ahmed was meanwhile racing flawlessly since his fourth place in qualifying. He won prefinal B after an intense battle with the fastest lap before pushing ahead in the final, which he won by nearly 3''. His performance earned him the lead in the standings of the Champions Cup. There was excellent progression for Sun Yue Yang, 34th in qualifying and 15th in the final, while David Beckmann, despite despite some good performances in the heats, lost all chance of qualifying in the rain in the tricky prefinal A.
Info Kartcom / © Photos KSP