RFM on the pace at Castelletto
07-November-2013
07-November-2013 0:00
in News
by Admin
The British team RFM Motorsport took up residence at Castelletto in Italy for two consecutive races at the 7 Laghi circuit. Each time, the British FA Kart / Vortexes proved formidable in terms of performance, even though the vagaries of racing didn't always give them the success they deserved.
At the end of the 2013 season, two new drivers have been added to the team in KF-Junior in anticipation of next year: the American Logan Sargeant and the Russian Matvey Maslov. The first of the two meetings at Castelletto was the last round of the Italian Championship. While Ollie Norris was convincing at the front in KF, his younger brother Lando took pole in KFJ and the second step of the podium in Race 1. Logan Sargeant quickly found his mark and finished in 3rd place in Race 2.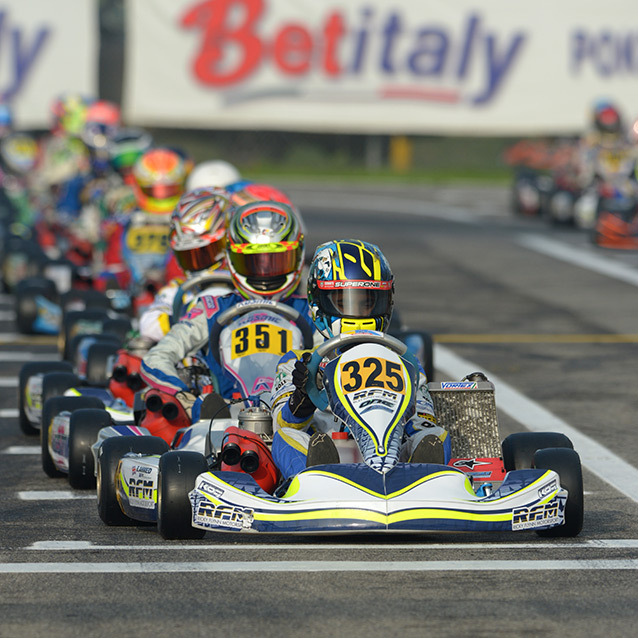 The WSK Final Cup was on the following weekend with a significant international field and varying track conditions. Ollie Norris put in a remarkable performance, but lost some ground in battle and eventually finished in the top 10 in the KF class. Enaam Ahmed was the most consistent in the turbulent KFJ pack. Constantly in the top three, he won Prefinal-B and dominated the start of the final before giving way at the end of the race and finished fourth. Always extremely fast, Lando Norris took pole position and three race wins, but couldn't fight for the win in the final race. He was caught in a big crash in Prefinal-B and had to push to move from 26th to 12th position. He came back to fifth position in the final, before crossing the finish line in seventh.
Daniel Ticktum wasn't content after coming 10th in qualifying. Twice victorious in the heats, third in the prefinal, he fought well in a lively second final and finished eighth. After 26th in qualifying and fifth place in the prefinal, Max Fewtrell moved closer to the top 10 in the final. There was an excellent performance from Logan Sargeant, fifth in qualifying against the clock and a 3rd place in a heat. The American was strong in the prefinal, but suffered in the final and could not move up any further than 15th. Matvey Maslov gave his best effort to regain 13 places in Prefinal-A to qualify and a further improvement of 16 places in the final, making good progress throughout the weekend. A brilliant driver, Jehan Daruvala was too often involved in racing incidents to get a good final result.
Info Kartcom / © Photos KSP