RFM does the double on English soil
05-September-2013
05-September-2013 0:00
in News
by Admin
Seven FA Kart -Vortexes from RFM Motorsport at PF International looked great in their new livery matching the colours of the awning of the British team. Although the results in the KF World Championship were not up to expectations, especially for Kodric, RFM was not far from a treble in the KF-Junior International Super Cup. Lando Norris won the race ahead of Jehan Daruvala, gaining the team their latest international double.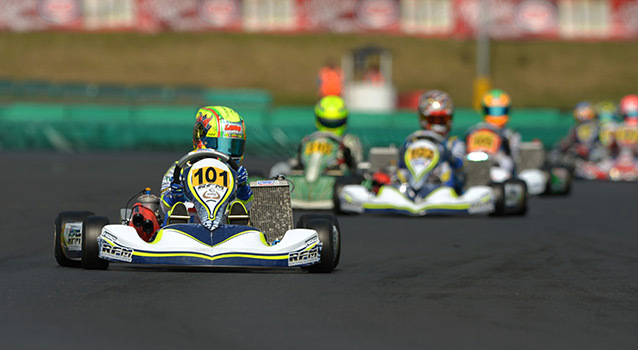 As with the former World Cup, the KF-Junior International Super Cup was designed to bring the world's best drivers together as a support for the KF World Championship. The entry was not very full, but the level of competition was guaranteed by the presence of major players in the category. At RFM, Lando Norris and Daniel Ticktum were the favourites. However Jehan Daruvala took the lead early in the meeting with excellent consistency on center stage. Second in the intermediate classification, he was ahead of Enaam Ahmed. Ticktum was penalized for transgressing the 'Slow' procedure and was eighth despite his two wins in the preceding heats. Norris was hit twice at the start and finished up 11th, while Max Fewtrell dropped to 14th after a retirement.
Daruvala continued his momentum by winning the pre-final, while Ticktum, with the fastest lap, was penalized and lost his 3rd place in favor of Norris. Again the fastest, Ticktum came through like a rocket in the final from 16th to the lead. But forcing Norris out won him a new penalty and stopped the team scoring a historic treble. With constant effort, Norris was the winner, followed by Daruvala, who was delighted to get second position. Fewtrell scored his best result of the weekend from 13th to 7th posiiton, while Ahmed retired on lap six.
After a good start, Martin Kodric took first three third places in the qualifying heats of the KF World Championship. Delayed in the penultimate heat, he was still eighth. Unfortunately, he was the victim of a racing incident at the wrong time, in the prefinal. Finishing 20th, he missed out on qualifying for the final despite his leading performance so far. After two good runs, Ollie Norris ensured a good ninth place in the pre-final, then fought valiantly to recover after a difficult start in the final and finished the race in 16th place in the world.
Info Kartcom / © Photos KSP