Another win for RFM with Norris at Castelletto
18-July-2013
18-July-2013 0:00
in News
by Admin
With four KFJ drivers in the top 10 of the Master Cup and four in the top 8 of the final, RFM Motorsport was the most successful team in the event at Castelletto, the last of the WSK Master Series in 2013.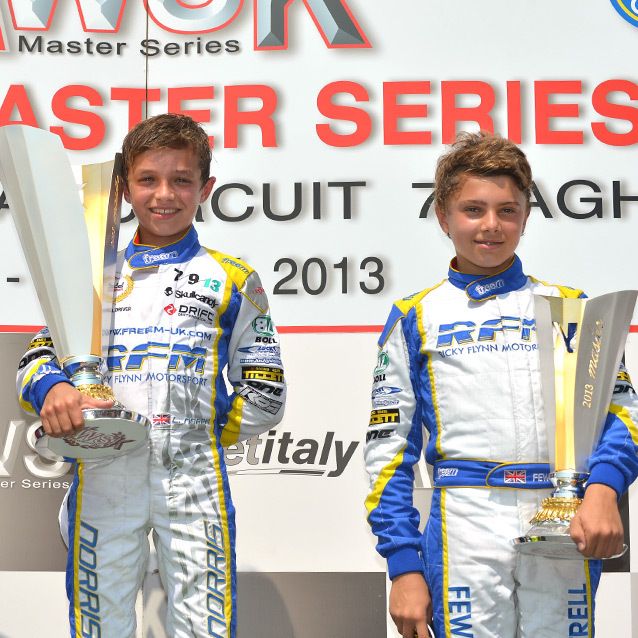 Lando Norris performed masterfully in the event, in which he had not been very successful so far. At the 7 Laghi circuit, he was triumphant which gave the young British driver hope: pole position, Superpole, 4 wins out of 4 in the heats and the prefinal and final. The title escaped him narrowly after a magnificent performance. At Castelletto Max Fewtrell got his best result of the season with greater consistency which reflects his progression in KFJ. The winner of the prefinal, he ended up on the 3rd step of the podium. Very well placed early in the meeting after setting the third fastest lap, the Finn Niko Kari finished second in the prefinal, but gave up ground in the final to finish sixth. Daniel Ticktum was not as good as usual in the sweltering heat of Lombardy. Very comfortable in the qualifying heats, he could do no better than eighth in the final, having still recovered 10 places, which gave him fifth in the Master Cup. Finally, neither Jehan Daruvala or Enaam Ahmed managed to qualify for the final.
In KF, Martin Kodric began by qualifying fifth in Superpole then fourth after the heats. He didn't however, improve his score in the finals, finishing sixth in the race and fourth in the Master Cup. Returning to competition after exams in June, Ollie Norris had his best final with an interesting 11th position.
It's not even holiday time for RFM, as the second and final round of the European Championship is coming up at Ortona circuit with a big challenge ahead for Lando Norris, leader of the standings in KFJ.
Info Kartcom / © Photos KSP