WSK Euro: RFM clinches KFJ with Lando Norris
27-April-2013
27-April-2013 0:00
in News
by Admin
Before the end of the WSK Euro Series at Genk in June, Lando Norris has enough points to not be beaten at the top of the rankings of the continental series. This is the result of his victory in Prefinal B and his podium at Sarno, so the young Briton reached the score needed to win the international title. His team-mate Daniel Ticktum could also join him on the podium of the WSK series.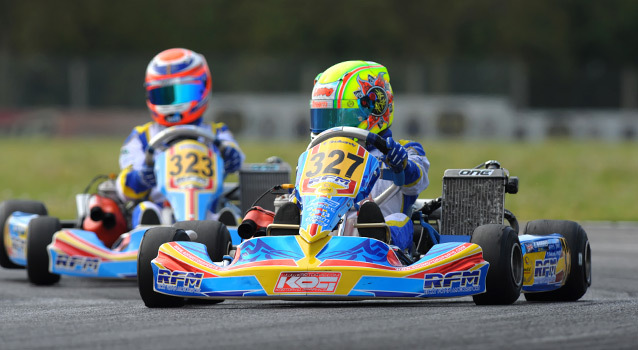 At the latest meeting at Sarno, three drivers competed in the Superpole from RFM in KF Junior before Norris and Ticktum took the highest places in the qualifying heats. They were joined by Jehan Daruvala and newcomer Niko Kari in good positions in the intermediate classification, but the Indian driver was penalized for his heated driving while the Finn found himself in trouble in the first lap of the prefinal A which stopped both getting in the final. The UAE driver Thomas Bale accelerated his pace over the race to get into the top 10 in the final. There was strong improvement for the British driver Enaam Ahmed as well, who had a few problems in the heats, so ended his weekend in 18th position, two places ahead of Max Fewtrell, who pushed hard in the early stages.
Martin Kodric proved intractable in KF, winning the Superpole and three heats out of four. He was part of the battle for victory in the Prefinal and preserved his chances in the Final when he went for the inside line. But contact made him lose no less than 25 places. Always the fastest, he was able to come back to 15th by the finish.
Info Kartcom / © Photos KSP