RFM, a very professional international top team
12-April-2013
12-April-2013 0:00
in News
by Admin
Both competent and discreet, Ricky Flynn Motorsport is a major team in the international paddocks for two main reasons. Firstly, the level of performance is high, often better than the big factory teams, which is the hallmark of RFM. And there is also the fact that there doesn't seem to be any hierarchy among the many drivers in the British team. Here, everyone has the equipment to aim for victory, both in KF and KFJ.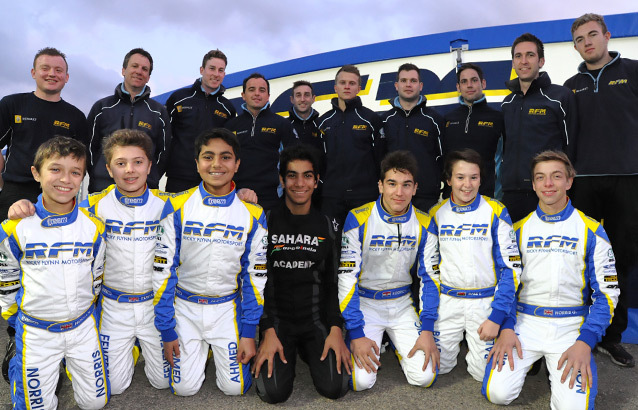 For a decade, the team run by the former British driver Ricky Flynn, has been collecting victories both in Britain and abroad with the same quality of delivery, and meticulous preparation of the FA Kart chassis. A graduate engineer, Micky Higham, manages the technical aspects while Vortex engines are prepared by ONE engine. This combination continues to prove its formidable effectiveness on track.
In 2013, RFM runs up to 8 drivers in international competition, two KF, Martin Kodric and Ollie Norris, and six KF Junior: Lando Norris, Enaam Ahmed, Daniel Ticktum, Jehan Daruvala, Tom Bale and Max Fewtrell. After only six races, the record is already very eloquent: three wins, nine podiums, eight pole positions, three superpoles. RFM is the overall best performing team in the European paddock in both categories. Looking more closely at the results, we see that the RFM drivers finished in the top 10 17 times, all drivers have won at least one qualifying heat, with the exception of young Thomas Bale, who has had two second places. All of the KFJ drivers have participated in a Superpole in WSK and RFM have had drivers in the top 10 in each final and qualifying. The best example was at Zuera in the WSK Euro Series with five drivers in the top 10 in KFJ.
With this evidence, the RFM drivers are soon likely to get more wins and major titles, confirming the reputation of the team at the highest level.
Info Kartcom / © Photos KSP