Double podium at Lonato for RFM
27-June-2019
27-June-2019 8:39
in News
by Admin
When the WSK Euro Series was back on the scene at Lonato, the Ricky Flynn Motorsport team increased its performance on the South Garda Karting track. A 3rd place in OK for Harry Thompson, a 2nd and a 4th place in OK-Junior for James Wharton and Thomas Ten Brinke and many other achievements have confirmed the competitiveness of the British team in early summer.
Starting at Sarno (ITA) in March and continuing in April at Angerville (FRA), the WSK Euro Series resumed at Lonato (ITA) from June 21st to 23rd before the last meeting the following weekend at Adria (ITA). At Lonato, on a dry track and in good summer temperatures, RFM's Kart / Vortex FAs were spectacularly effective.
Ugo Ugochukwu started the competition with the OK-Junior pole position as a prelude to two heat wins. The 16th fastest, James Wharton also won two heats, had two fastest laps in the race and took the lead after the heats against Ugochukwu, who won his Prefinal. Meanwhile, Thomas Ten Brinke returned to business by returning to the second row on the starting grid of the Final.
Ugochukwu lost places when the lights went out, but Wharton made a remarkable nine-place climb to get on the second step of the podium while Ten Brinke kept his 2nd place in the Championship finishing 4th. Delayed in a heat, Laurens Van Hoepen was 10th behind Ugochukwu. After several adventures, Christian Ho took 14th position with a total gain of 14 places over the meeting, five places in front of Conrad Laursen. Martinius Stenshorne had a good run in the heats before reaching 4th in the Prefinal, but an incident forced him to give up early in the Final. Finally, the young Emerson Fittipaldi discovered this competition with definite ability, but just missed qualification.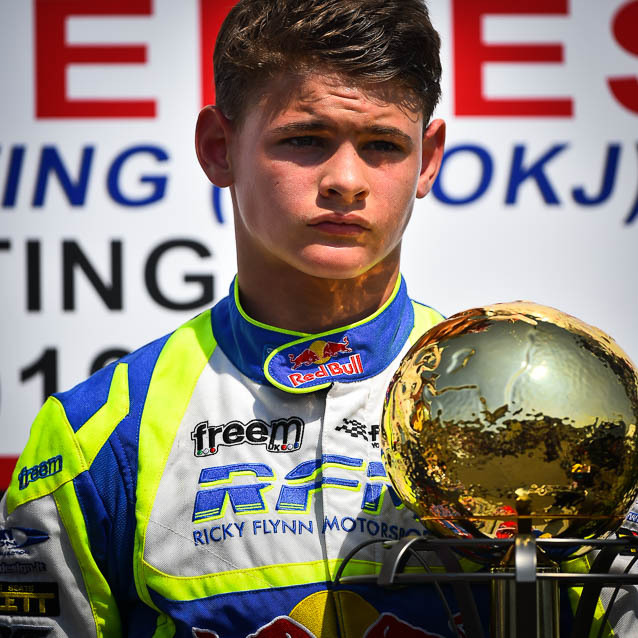 Very combative, with excellent starts, Harry Thompson drove great races in OK and finally mounted the third step of the podium. Thanks to this very good result, he made a spectacular jump into the top 5 of the Championship.
The WSK Euro Series will finish on June 27th-30th at a semi-nocturnal race on the Adria Karting Raceway where Thomas Ten Brinke will be looking to win in Junior.

Info Kartcom / © Photo KSP - Sport in Photo